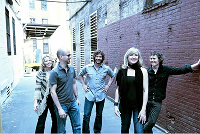 The origins of Ollabelle are familiar to anyone who has heard the band. The group started as a Sunday night jam session at an East Village club updating gospel material with a semi-consistent group of regulars.
The group is composed of five singing multi-instrumentalists, who's individual talents and musical tastes fuse together to provide a unique musical experience influenced by various genred such as gospel, traditional/folk, blues, bluegrass, rock, soul, and even jazz.
Ollabelle will help bring Maplewoodstock to a crescendo with a 6:15 pm Sunday night set right before final act and co-headliner Shameikia Copeland.
» Read more about Ollabella at http://www.ollabelle.net