2018 Info
2018 Lost and Found
If you lost something or found something, please see https://maplewood.worldwebs.com/forums/discussion/maplewoodstock-2018-lost-and-found
Thanks for 2018!
What a terrific festival for 2018. See you next year. Until then, enjoy the photos we've been posting on our Facebook Page.
Arts and Kids Vendors
Arts and Kids Vendors are a huge part of our festival. Check out the map and list of nearly 70 local vendors on our ART page.
2018 Headliners, Featured Acts, and Full Band Line up Announced:
Acclaimed artist Josh Ritter & The Royal City Band headlines Maplewoodstock on Sunday night. Reggae wunderkinds Third World host Saturday night. Danielia Cotton is featured on Saturday evening, and The Suffers are featured on Sunday evening. Read more at http://maplewoodstock.com/music/ and see the full weekend lineup for Day One and Day Two.
Arts, Food, Kid Zone vendor applications (and band applications) are now all closed:
Our festival is fully booked. Please check our website back in spring 2019 for applications to participate in our 2019 (Year 16) festival.
Canopy and Space Policy for 2018: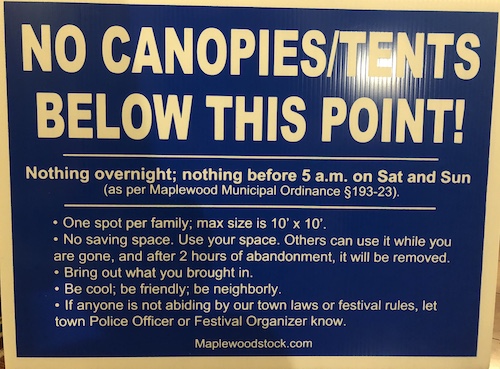 Our "short" policy is below:
Pursuant to Maplewood Municipal Ordinance §193-23 Memorial Park opens at 5:00am. Therefore, no one is permitted to enter the park before that time unless permission is granted by an appropriate Township Official. DO NOT ENTER THE PARK PRIOR TO 5:00AM!
Canopies, chairs, blankets, and other personal items are permitted in Memorial park only after 5:00am each day of the event. Any personal items that are placed prior to that time will be removed by the Maplewood Police Department. All personal items must be removed at the end of each night. Exceptions are items from paid vendors and approved event staff. These items will be clearly marked.
Canopy Policy:

After 5:00am on each event day canopies, chairs, blankets, and other personal items may be placed on a first-come first-served basis. DO NOT ENTER THE PARK PRIOR TO 5:00AM!
Only one canopy is allowed per family. Canopies must be 10' X 10' or smaller and placed only in designated pre-marked locations
Canopies with side panels, tents with side panels, umbrellas or other items that block the view of others are prohibited.

Unoccupied Spaces:

No person is permitted to "save a space." If a canopy, chair, blanket. or other personal item is left unattended for more than 2 hours after the start of the event, then those personal items are subject to removal by the police.
Alternatively, if festival attendees know that they will not be utilizing their space for an extended period of time, they are free to invite others to utilize such space. If unsuccessful, then they should remove their items or be subject to removal according to the above policy.

WHATEVER YOU BRING IN TO THE PARK, YOU MUST TAKE IT WITH YOU WHEN YOU LEAVE – BOTH NIGHTS. Unless otherwise approved, no personal item is permitted to remain in the park overnight. This includes canopies, chairs, blankets, and any other personal items. If left overnight they will be removed by the Maplewood Police Department.