Sat, July 10, and Sun, July 11, 2010 – our 7th year
Ivan Neville's Dumpstaphunk – Saturday at 8:30 pm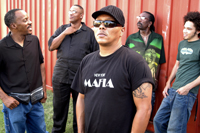 All the way from New Orlean's, get ready for some of the nastiest, most serial crushing funk to ever come out of New Orleans and beyond. With each member bringing his own flavor to the music, the power of this combo is undeniable. Led by Ivan Neville — a multi-instrumentalist musician, singer, and songwriter, son of Aaron Neville, and nephew to members of the Neville Brothers.
"Dumpstaphunk is the best funk band from New Orleans right now." — The New York Times. "Ivan Neville was blessed not only with a pedigree and last name that are golden in the music world, but also the skills to back them up." — Times Picayune
See more at http://www.dumpstaphunk.com
SUNDAY:
Steve Forbert solo and acoustic – Sunday at 7:00 pm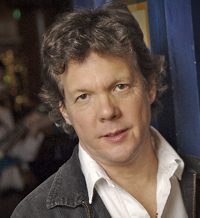 Released at the height of the new wave explosion, his 1978 debut Alive On Arrival offered a first look at his colorful mix of spare acoustic introspection and scrappy rock 'n' roll and became one of the year's most acclaimed albums. Forbert expanding his audience substantially with 1979's commercial breakthrough album Jackrabbit Slim and his era defining hit single, "Romeo's Tune," which reached #11 on the Billboard Hot 100 chart in 1980. Steve Forbert has never stopped writing, singing, performing, recording, and releasing music — available through his website. The freedom to release music when he chooses to and follow his own muse has ironically resulted in his creating albums l that must surely be considered amongst the best releases of his career. As the years pass, the indefinable honesty and dignity of Forbert's approach to music continues to have an almost magical spell on his small but loyal coterie of fans.
Maya Azucena and her band – Sunday at 5:30 pm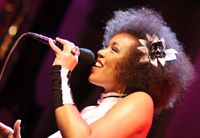 Brooklyn singer/songwriter Maya Azucena believes that music is a tool for healing and activism, and supports humanitarian causes with her voice. Recently a Grammy winner for her duet on Stephen Marley's "Reggae Album of the Year," named Best Alternative Artist by AllHipHop.com, winner for three awards including Best Female Vocal in the international competition for ABC Radio Network's Fame Games EFFIGY Awards, and two-time nominee for Best Female Vocalist of the Year at the Reader's Choice Soul Tracks Awards.
See more at http://mayaazucena.com
Full lineup:
Saturday:
Jazz Patrol — noon
Deena and the Laughing Boys — 1:24 pm
4th Street Nite Owls — 2:06 pm
Mythic West — 2:06 pm
Five Cent Philosophers — 2:48 pm
Walk the Dog — 3:30 pm
13 Scotland Road — 4:12 pm
New Day Dawn — 4:54 pm
FELT — 5:36 pm
Emotional Rex — 6:18 pm
Empro Express — 7:00 pm
Rich Pagano and the SugarCane Cups — 7:45 pm
Ivan Neville's Dumpstaphunk — 8:45 pm
Sunday:
Mark Murphy — noon
JJ Blues Band — 12:42 pm
Test Pattern — 1:24 pm
David Easton Band — 2:206 pm
Moroccan Sheepherderes — 2:48 pm
The Swales — 3:30 pm
Curtis Winchester — 4:12 pm
Sam Sherwin — 4:54 pm
Maya Azucena — 5:54 pm
Steve Forbert — 7:24 pm