Sat, July 7, and Sun, July 8, 2012 – our 9th year
Shemekia Copeland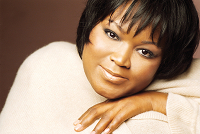 At a young age, Shemekia Copeland is already a force to be reckoned with in the blues. She's opened for the Rolling Stones, headlined at the Chicago Blues Festival and numerous festivals around the world, scored critics choice awards on both sides of the Atlantic (The New York Times and The Times of London) and shared the stage with such luminaries as Buddy Guy, B.B. King, Taj Mahal and John Mayer. Heir to the rich tradition of soul-drenched divas like Ruth Brown, Etta James and Koko Taylor, Copeland's shot at the eventual title of Queen of the Blues is pretty clear. By some standards, she may already be there.
Shemekia and her band will bring Maplewoodstock 2012 to a close with a 7:45 pm Sunday night set.
» Read more about Shemikai at http://www.shemekiacopeland.com
Ollabelle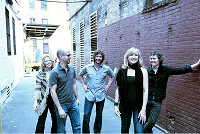 The origins of Ollabelle are familiar to anyone who has heard the band. The group started as a Sunday night jam session at an East Village club updating gospel material with a semi-consistent group of regulars.
The group is composed of five singing multi-instrumentalists, who's individual talents and musical tastes fuse together to provide a unique musical experience influenced by various genred such as gospel, traditional/folk, blues, bluegrass, rock, soul, and even jazz.
Ollabelle will help bring Maplewoodstock to a crescendo with a 6:15 pm Sunday night set right before final act and co-headliner Shameikia Copeland.
» Read more about Ollabella at http://www.ollabelle.net
Chris Berry and Panjea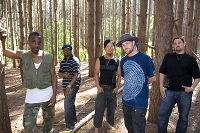 "Chris Berry picked up where Paul Simon left off," says Michael Kang, violinist and mandolin-player for The String Cheese Incident. "Chris' music glides across all racial and ethnic lines making everyone feel at home within the music. The conscious lyrics are a road map for humanity and Chris is one of the few people able to carry this message to a wide audience."
Berry's story "sounds like it was written by a Hollywood script writer" (Steve Leggett, All Music Guide). Maybe that is because it is hard to believe that a California White boy moved to Africa, became a spirit caller, and went on to sell over a million records in Southern Africa, where he still sells out stadiums. Now he is positioned to do the same in America.
Chris Berry and Panjea will bring day one of Maplewoodstock 2012 to a close with a 9:00 pm Saturday night set.
» Read more about Chris and his band at http://www.myspace.com/chrisberryandpanjea/
James Maddock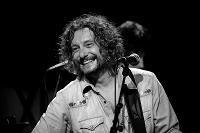 British born James Maddock was first recognized in the U.S as leader of the band Wood. Their debut album, Songs From Stamford Hill, produced a Top 5 Triple A hit ("Stay You") and remains a fan favorite 10 years later. In 2009 Maddock released the exquisite collection of songs, Sunrise On Avenue C, for which he won the 2010-11 NY Music Award for Best Americana Album. Maddock followed Sunrise in 2011 with Wake Up and Dream. NYC's WFUV 2011 Listener's Poll named Wake Up and Dream (#13) as one of the top albums of 2011. The Mike Scott (Waterboys) co-written single "Beautiful Now" was named the #9 Song of the Year in the same poll. Maddock has become a mainstay on non-comm and satellite radio and continues to tour extensively in the U.S and Europe. His new single, "My Old Neighborhood" is available on iTunes.
James Maddock will help bring Maplewoodstock to a crescendo with a 7:15 pm Saturday night set right before co-headliner Chris Berry and Panjea.
» Read more about James Maddock at http://www.jamesmaddock.net
The rest of our 2012 lineup:
Saturday, July 7, 2012
noon —  8bit ( … original and indie/alternative covers performed by four young rockers from Columbia High School …)
12:42 — Moodring ( … Maplewood and South Orange's premier jam band; eclectic originals and covers; whatever the mood, they jam it …)
1:24 — House of Essex (formerly known as Three Gentlemen Only) ( … an eclectic vintage style rock band of original material loved by beautiful women …)
2:06 — 13 Scotland Road ( … the brainchild of Bill Binford plays a wide range of original music, featuring Aaron Seglin …)
2:48 — Elijah and the Rockers ( … straight out of Jamaica and NYC; roots rock reggae like it's supposed to be …)
3:30 — Running Late ( … a smooth eclectic blend of funk, pop, and alternative rock that gets you moving …)
4:12 — Big Mamou ( … Cajun, Zydeco and Cosmic Country featuring John Sherman accordion and Julianne Fenhagen vocals from Montclair …)
4:54 — Jill Criscuolo ( … A NJ based pop/dance artist that delivers an energetic family oriented stage performance …)
5:36 — The Martays ( … a band of NYC's most illustrious recording and touring musicians create rollicking, soulful re-imaginings of classic songs)
6:18 — featured artist The Martin Briley Band ( … The Martin (Salt in My Tears) Briley Band play gritty, yet sophisticated, pop gems …)
7:15 — co-headliner James Maddock ( … NYC's WFUV 2011 Listener's Poll named Wake Up and Dream one of the top albums of 2011, with the song "Beautiful Now" #9 in the same poll …)
9:00 — headliner Chris Berry and Panjea ( … the powerful groove and socially conscious message of Chris Berry and Panjea has its roots in the ghettos of Zimbabwe; the music speaks of personal power and the ability to change one's own life and the world for the better …)
Sunday, July 8, 2012
NOTE: This scheduled is up-to-date and differs slightly from the schedule published in our in our print program. The Jimmy Destri Band is no longer on the bill.
noon —  Sad About Girls ( … power pop meets mopey indie in a dark alley …)
12:42 — Matt Mattheis ( … South Orange singer/songwriter has been performing for over 30 years and will debut his new CD Living in Grey with his six piece band …)
1:24 — The Mungers ( … never too serious, The Mungers deliver pop hooks that you'll be humming later …)
2:06 — Rachel Allyn ( … Jersey born, Nashville educated singer/songwriter Rachel Allyn brings a new perspective to country music…)
2:48 — Hilton Nawlin's Funk Marching Band ( … come get funktafied in a Nawlin's kinda way …)
3:30 — Shari Pine ( … straight up, low down, burning and churning, Pine is zero to soul in 10 seconds …)
4:12 —  Dachee & Culturally One ( … a band that uplifts, inspires, and entertains to make change in the world …)
5:00 — featured artist Seth Walker ( … "The first time I heard Seth Walker at a small club in Nashville I was impressed like I haven't been impressed in 30 years, with performance, presence, and great songs" — Delbert McClinton)
6:15 — co-headliner Ollabelle ( … American roots–rock band that has been sharing their rare chemistry for over ten years …)
7:45 — headliner Shemekia Copeland ( … heir to the rich tradition of soul-drenched divas like Ruth Brown, Etta James and Koko Taylor, Copeland's shot at the eventual title of Queen of the Blues is pretty clear; by some standards, she may already be there …)