MERCH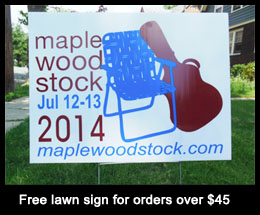 We will be out selling our merchandise in May 2014. We'll be at local events and many Saturday mornings in downtown Maplewood Village. Watch our Facebook and Twitter accounts for updates as to where and when we'll be selling.
Why should you buy Maplewoodstock merch? You mean besides the fact that you look damn cool in a Maplewoodstock t-shirt and your house value just went up $10,000 when you planted a Maplewoodstock lawn sign among your dandelions?
Well, look, the money we collect on these items helps to defray the cost of running the event and keeps it FREE.
It shows your support for this annual community event and spreads the word to all your friend and neighbors.
Online price: $18 (Includes local delivery)

The following are still in stock (very limited quantity).
Adult T-Shirts
Steel Blue



Maroon Heather



Texas Orange (Black Knob)



Texas Orange (Light Blue Knob)



Light Blue (Black Knob)



Light Blue (Orange Knob)



Charcoal



Women's T-Shirts
Women's T-shirt - Sangria



Women's T-shirt - Lime



Kids T-Shirts
Kid's Gold



Kid's Aquatic Blue



Lawn Sign
2014 Lawn Sign - $8